An alternative to Big Tech's video platforms
PeerTube is a tool for sharing online videos developed by Framasoft, a french non-profit.
We're proud to announce PeerTube's v6 is out!
Password protected videos, storyboard, chapters, video reupload... PeerTube's newest version is packed with great features... you asked and voted for!
Learn more and support Framasoft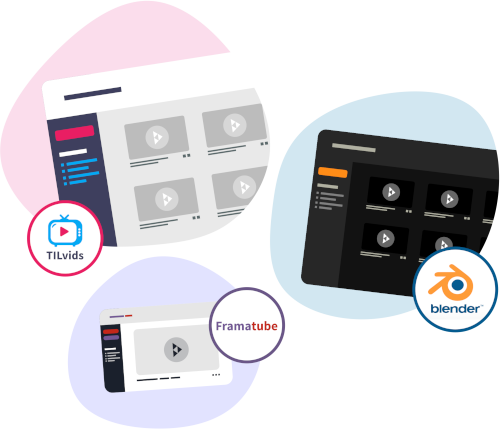 Kio estas PeerTube?
PeerTube allows you to create your own video platform, in complete independence.
With PeerTube, no more opaque algorithms or obscure moderation policies! PeerTube platforms you visit are built, managed and moderated by their owners.
PeerTube allows platforms to be connected to each other, creating a big network of platforms that are both autonomous and interconnected.
Moreover, PeerTube does not depend on any advertising and does not track you!
What do we find, on PeerTube?
Discover our recommendations selected among the 600 000 videos and the 1 000 platforms of the PeerTube network
PeerTube is not subject to the monopoly of any company
Like the other tools developed by Framasoft, PeerTube considers you as a person and not as a product to be profiled and locked in video loops.
PeerTube is free, open-source, created for non-commercial purposes.
An ethical and open source digital common
PeerTube belongs to you. At any time, you can help us to improve PeerTube with your ideas, suggestion or by modifying the source code yourself.
PeerTube is a free software, not a secret formula that belongs to Google (in the case of Youtube) or to Vivendi/Bolloré (Dailymotion). This free/libre license guarantees our fundamental freedoms as users.
PeerTube exists thanks to your donations!
Framasoft does not make money by developing PeerTube! We are a public interest organization where over 90% of our funding comes from donations.
Every contribution, even the smallest, allows us to continue developing PeerTube. You think our project is going in the right direction? Please make a donation!
Donate
Questions? We guide you!
PeerTube is a tool that you install on a web server. It allows you to create a video hosting website, so create your "homemade YouTube".
La malsamo al Jutubo estas, ke ĝi ne celas krei grandegan platformon, kiu centrigas filmojn de la tuta mondo al unu servilaro (kiu estas tre multekosta).
Kontraŭe, PeerTube celas krei reton de multaj malgrandaj, interkonektitaj gastigantoj de filmoj.
Oni povas certe respondi: ne!
The ambition remains to be a free and decentralized alternative: the goal of an alternative is not to replace, but to propose something else, with different values, in parallel to what already exists.
PeerTube estas unika, ĉar (laŭ nia scio) ĝi estas la sola reta aplikaĵo por gastigado de filmoj, kiu kunigas ĉi tiujn tri avantaĝojn:
An open code under a free/libre license
PeerTube estas senpage provizata, ne necesas pagi por instali ĝin sur via servilo;
Oni povas rigardi sub la kovrilon de PeerTube (al ĝia fontkodo): ĝi estas kontrolebla, travidebla;
It can be enhanced by everyone's contributions.
A federation of interconnected hosting providers
It decentralizes video storage and decision-making power;
We can display videos and accounts of other PeerTube websites;
It's based on ActivityPub to connect with tools like Mastodon for example.
Peer-to-peer broadcasting
It reduces server bandwidth overload if a video becomes viral;
We become an actor of the video broadcasting;
It's based on WebRTC, a free and open-source project for web browsers.