An alternative to Big Tech's video platforms
PeerTube is a tool for sharing online videos developed by Framasoft, a french non-profit.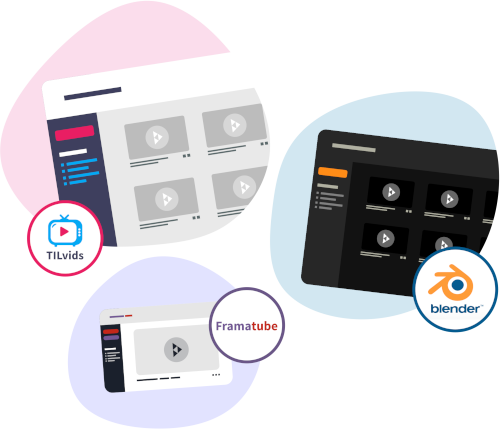 Vad är PeerTube?
PeerTube allows you to create your own video platform, in complete independence.
With PeerTube, no more opaque algorithms or obscure moderation policies! PeerTube platforms you visit are built, managed and moderated by their owners.
PeerTube allows platforms to be connected to each other, creating a big network of platforms that are both autonomous and interconnected.
Moreover, PeerTube does not depend on any advertising and does not track you!
What do we find, on PeerTube?
Discover our recommendations selected among the 600 000 videos and the 1 000 platforms of the PeerTube network
PeerTube is not subject to the monopoly of any company
Like the other tools developed by Framasoft, PeerTube considers you as a person and not as a product to be profiled and locked in video loops.
PeerTube is free, open-source, created for non-commercial purposes.
An ethical and open source digital common
PeerTube belongs to you. At any time, you can help us to improve PeerTube with your ideas, suggestion or by modifying the source code yourself.
PeerTube is a free software, not a secret formula that belongs to Google (in the case of Youtube) or to Vivendi/Bolloré (Dailymotion). This free/libre license guarantees our fundamental freedoms as users.
PeerTube exists thanks to your donations!
Framasoft does not make money by developing PeerTube! We are a public interest organization where over 90% of our funding comes from donations.
Every contribution, even the smallest, allows us to continue developing PeerTube. You think our project is going in the right direction? Please make a donation!
Donate
Questions? We guide you!
PeerTube is a tool that you install on a web server. It allows you to create a video hosting website, so create your "homemade YouTube".
Till skillnad från YouTube är vårt mål inte att skapa en gigantisk plattform som centraliserar videor från jordens alla hörn på en enda serverfarm (vilket är ofattbart dyrt).
I stället satsar PeerTube på att skapa ett nätverk av sammanlänkade små värdservrar.
Det kan vi svara på med ett säkert nej!
The ambition remains to be a free and decentralized alternative: the goal of an alternative is not to replace, but to propose something else, with different values, in parallel to what already exists.
PeerTube är unikt eftersom det (så vitt vi vet) är den enda webbapplikationen för videor som kombinerar de här tre fördelarna:
Öppen källkod med en fri licens
PeerTube är gratis, du behöver inte betala för att installera det på din server
Vi kan se hur PeerTube fungerar bakom kulisserna (dess källkod): det går att granska och är transparent
Koden kan förbättras av allas bidrag
En federation av sammanlänkade videovärdar
Detta sprider ut videolagringen och makten över plattformen
Vi kan visa videor och konton från andra PeerTube-webbplatser
Det grundar sig på ActivityPub för att kommunicera med andra plattformar, som Mastodon
Att distribuera videor från person till person
Det minskar risken för att överbelasta en server om en video snabbt blir väldigt populär
Användaren blir en del av videodistributionen
Det grundar sig på WebRTC, ett fritt mjukvaruprojekt för webbläsare, med öpen källkod