An alternative to Big Tech's video platforms
PeerTube is a tool for sharing online videos developed by Framasoft, a french non-profit.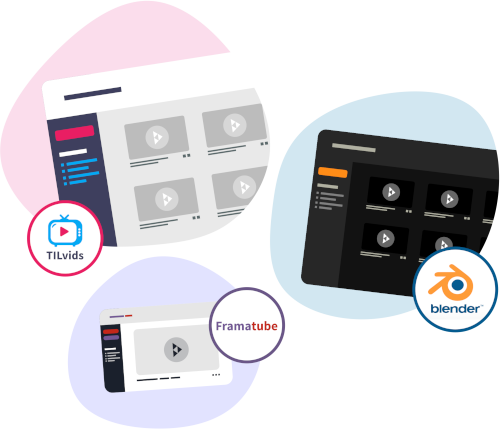 O que é o PeerTube?
PeerTube allows you to create your own video platform, in complete independence.
With PeerTube, no more opaque algorithms or obscure moderation policies! PeerTube platforms you visit are built, managed and moderated by their owners.
PeerTube allows platforms to be connected to each other, creating a big network of platforms that are both autonomous and interconnected.
Moreover, PeerTube does not depend on any advertising and does not track you!
What do we find, on PeerTube?
Discover our recommendations selected among the 600.000 videos and the 1.000 platforms of the PeerTube network
PeerTube is not subject to the monopoly of any company
Like the other tools developed by Framasoft, PeerTube considers you as a person and not as a product to be profiled and locked in video loops.
PeerTube is free, open-source, created for non-commercial purposes.
An ethical and open source digital common
PeerTube belongs to you. At any time, you can help us to improve PeerTube with your ideas, suggestion or by modifying the source code yourself.
PeerTube is a free software, not a secret formula that belongs to Google (in the case of Youtube) or to Vivendi/Bolloré (Dailymotion). This free/libre license guarantees our fundamental freedoms as users.
PeerTube exists thanks to your donations!
Framasoft does not make money by developing PeerTube! We are a public interest organization where over 90% of our funding comes from donations.
Every contribution, even the smallest, allows us to continue developing PeerTube. You think our project is going in the right direction? Please make a donation!
Donate
Questions? We guide you!
PeerTube is a tool that you install on a web server. It allows you to create a video hosting website, so create your "homemade YouTube".
A diferença em relação ao YouTube é que PeerTube não pretende criar uma enorme plataforma centralizada de vídeos do mundo inteiro num único servidor em um centro de dados (o que é terrivelmente caro).
Ao contrário, o conceito de PeerTube é criar uma rede de vários provedores de difusão de vídeo pequenos, porém, interconectados.
Nós podemos responder com certeza que: não!
Contudo, a ambição continua a ser uma alternativa livre e descentralizada: o objetivo de uma alternativa não é substituir, mas de propor alguma outra coisa, com um valor diferente, em paralelo com o que já existe.
PeerTube é único porque (até onde sabemos) é o único aplicativo de hospedagem de vídeo que combina três vantagens:
Um código aberto sob uma licença livre
PeerTube é oferecido gratuitamente, não há necessidade de pagar para instalá-lo no seu servidor;
Nós podemos olhar sob o capô do PeerTube (seu código fonte): é auditável, transparente;
Pode ser ampliado pela contribuição de todos.
Uma federação de provedores de hospedagem interconectadas
Descentraliza o armazenamento de vídeo e do poder de tomada de decisão;
Nós poderemos exibir contas e vídeos de outras instâncias do PeerTube;
É baseado em ActivityPub para conectar com as ferramentas lcomo o Mastodon por exemplo.
Transmissão peer-to-peer (par-a-par)
Reduz a sobrecarga da banda de um servidor quando um vídeo se torna viral;
Nós se tornamos um ator principal sobre o que significa e o que é a transmissão de vídeo;
Baseado no protocoloWebRTC , um projeto gratuito e de código-aberto para navegadores.