Alternatif terhadap platform video Perusahaan Teknologi Raksasa
PeerTube is a tool for sharing online videos developed by Framasoft, a french non-profit.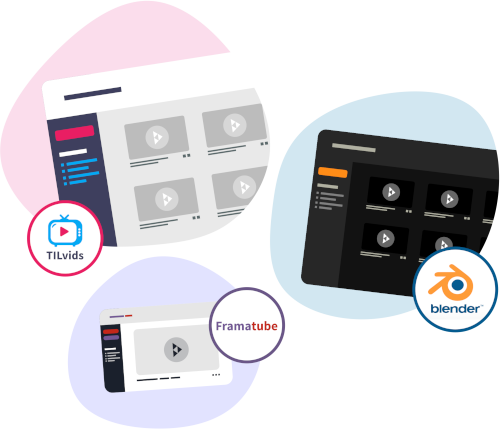 Apa itu PeerTube?
PeerTube allows you to create your own video platform, in complete independence.
With PeerTube, no more opaque algorithms or obscure moderation policies! PeerTube platforms you visit are built, managed and moderated by their owners.
PeerTube allows platforms to be connected to each other, creating a big network of platforms that are both autonomous and interconnected.
Dan juga, PeerTube tidak bergantung ke layanan iklan apa pun dan juga tidak melacak kamu!
What do we find, on PeerTube?
Discover our recommendations selected among the 600.000 videos and the 1.000 platforms of the PeerTube network
PeerTube is not subject to the monopoly of any company
Seperti perangkat lunak lain yang dikembangkan oleh Framasoft, PeerTube memandang kamu sebagai seorang manusia dan bukan sebagai produk untuk dilacak dan dikekang di putaran video.
PeerTube is free, open-source, created for non-commercial purposes.
An ethical and open source digital common
PeerTube belongs to you. At any time, you can help us to improve PeerTube with your ideas, suggestion or by modifying the source code yourself.
PeerTube is a free software, not a secret formula that belongs to Google (in the case of Youtube) or to Vivendi/Bolloré (Dailymotion). This free/libre license guarantees our fundamental freedoms as users.
PeerTube ada karena donasi kamu!
Framasoft tidak mendapatkan uang dengan pengembangan PeerTube! Kami adalah organisasi publik yang mana lebih dari 90% pendanaan berasal dari donasi
Every contribution, even the smallest, allows us to continue developing PeerTube. You think our project is going in the right direction? Please make a donation!
Donasi
Ada pertanyaan? Kami akan memandu kamu!
PeerTube adalah alat yang kamu pasang di peladen web kamu. Ini bisa membuat kamu membuat situs hos video, jadi buatlah "YouTube Rumahan".
The difference to YouTube is that it's not intended to create a huge platform centralizing videos from the whole world on a single server farm (which is horribly expensive).
On the contrary, PeerTube's concept is to create a network of multiple small interconnected video hosting providers.
Kami bisa tegas menjawab: tidak!
The ambition remains to be a free and decentralized alternative: the goal of an alternative is not to replace, but to propose something else, with different values, in parallel to what already exists.
PeerTube is unique because (as far as we know) it's the only video hosting web application which combines three advantages:
Kode terbuka yang berada di bawah lisensi libre
PeerTube dipersembahkan secara gratis, tidak usah membayar untuk memasangnya di peladen kamu;
We can look under the hood of PeerTube (its source code): it's auditable, transparent;
Ini bisa diperbagus dengan kontribusi semuanya.
A federation of interconnected hosting providers
It decentralizes video storage and decision-making power;
We can display videos and accounts of other PeerTube websites;
It's based on ActivityPub to connect with tools like Mastodon for example.
Peer-to-peer broadcasting
It reduces server bandwidth overload if a video becomes viral;
We become an actor of the video broadcasting;
It's based on WebRTC, a free and open-source project for web browsers.