Annar valkostur en myndskeiðasöfn stóru tæknifyrirtækjanna
PeerTube er verkfæri til að deila myndskeiðum á netinu, þróað af Framasoft, sem eru frönsk samtök án hagnaðarmarkmiða.
We're proud to announce PeerTube's v6 is out!
Password protected videos, storyboard, chapters, video reupload... PeerTube's newest version is packed with great features... you asked and voted for!
Learn more and support Framasoft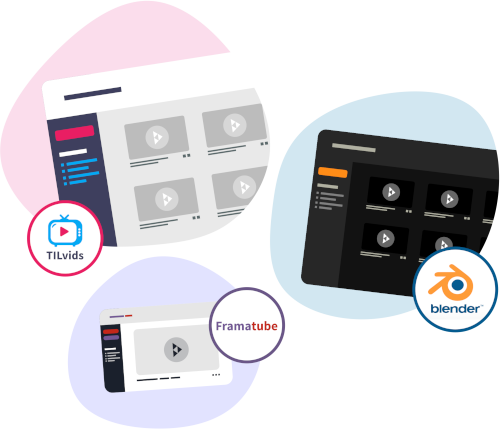 Hvað er PeerTube?
PeerTube gerir þér kleift að útbúa þitt eigið myndskeiðasafn, algerlega sjálfstætt.
Með PeerTube eru ekki lengur nein ógegnsæ reiknirit eða loðnar birtingarstefnur! PeerTube-kerfi sem þú skoðar eru byggð, þeim stjórnað og efninu á þeim stýrt af eigendum sínum.
PeerTube gerir kerfunum kleift að tengjast hvert öðru, og þannig mynda stórt net af kerfum sem bæði tengjast saman og geta verið sjálfstæð.
Til viðbótar þessu er PeerTube ekki háð tekjum af auglýsingum og fylgist ekki með ferðum þínum!
Hvað getum við fundið, á PeerTube?
Skoðaðu hverju við mælum með og höfum valið úr 600.000 myndskeiðum og öllum 1.000 kerfum á PeerTube-netinu
PeerTube er ekki með í fákeppnistilburðum neinna fyrirtækja
Rétt eins og annar hugbúnaður sem hannaður er af Framasoft, lítur PeerTube á þig sem persónu en ekki vöru til flokkunar og innilokunar í endurteknu hönnuðu flæði.
PeerTube er frjálst, ókeypis og með opinn grunnkóða, hannað fyrir virkni án hagnaðarmarkmiða.
Siðræn og opin stafræn almenningseign
PeerTube tilheyrir þér. Hvenær sem er, þegar þér hentar, er þér frjálst að hjálpa okkur við að endurbæta PeerTube með þínum hugmyndum, tillögum eða þá að þú endurbætir sjálfan grunnkóðann.
PeerTube er frjáls hugbúnaður, ekki leyniformúla sem tilheyrir Google (eins og Youtube) eða Vivendi/Bolloré (Dailymotion). Frjálsa notkunarleyfið tryggir grundvallarrelsi okkar sem notenda.
PeerTube exists thanks to your donations!
Framasoft does not make money by developing PeerTube! We are a public interest organization where over 90% of our funding comes from donations.
Every contribution, even the smallest, allows us to continue developing PeerTube. You think our project is going in the right direction? Please make a donation!
Styrkja
Spurningar? Við leiðbeinum þér!
PeerTube is a tool that you install on a web server. It allows you to create a video hosting website, so create your "homemade YouTube".
The difference to YouTube is that it's not intended to create a huge platform centralizing videos from the whole world on a single server farm (which is horribly expensive).
On the contrary, PeerTube's concept is to create a network of multiple small interconnected video hosting providers.
Við getum svarað því skýrt og skorinort: NEI!
The ambition remains to be a free and decentralized alternative: the goal of an alternative is not to replace, but to propose something else, with different values, in parallel to what already exists.
PeerTube is unique because (as far as we know) it's the only video hosting web application which combines three advantages:
An open code under a free/libre license
PeerTube is freely provided, no need to pay to install it on your server;
We can look under the hood of PeerTube (its source code): it's auditable, transparent;
It can be enhanced by everyone's contributions.
A federation of interconnected hosting providers
It decentralizes video storage and decision-making power;
We can display videos and accounts of other PeerTube websites;
It's based on ActivityPub to connect with tools like Mastodon for example.
Útsending í jafningjaham (peer-to-peer)
It reduces server bandwidth overload if a video becomes viral;
We become an actor of the video broadcasting;
It's based on WebRTC, a free and open-source project for web browsers.